---

Five Countries Being Squeezed by Currency Pegs
Only on the streets of cities like Cairo, Abuja or Tashkent can you gauge just how much pressure developing countries are under to ease controls on their currencies.
Individuals and businesses in five nations across central Asia, the Middle East and Africa are paying anywhere from 4 percent to 136 percent more than official exchange rates to get their hands on dollars, according to a Bloomberg survey. So-called black markets flourish at times when there's a shortage of greenbacks and are one indicator of how much a currency should be allowed to depreciate to reach its fair value.
Central banks that uphold pegs have been under strain after tumbling commodity prices and slowing global growth weakened currencies from Brazil to Russia by at least 18 percent in the past year. In the four months that followed China's shock devaluation of the yuan in August, Kazakhstan, Argentina and Azerbaijan abandoned control of their exchange rates to boost competitiveness and avoid draining reserves.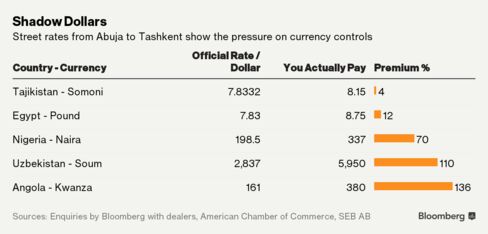 "There is enormous pressure on some of the pegs in emerging markets, with the unofficial rate diverging significantly from the official one," said Bernd Berg, an emerging-markets strategist at Societe Generale SA in London. "Countries like Nigeria are maintaining fixed exchange rates that are unsustainable. Once the pegs break, investors in the local currency face significant losses."
In Argentina's case, the move to a free float in December eliminated the 4.2-peso gap between the official and black market rates. In the months prior to the move, it cost as much as 50 percent more to buy the currency on the street than at the central bank rate.
That premium is similar to what currency vendors in Nigeria's capital Abuja are charging for dollars now, while hawkers in Tashkent are demanding more than double to convert the Uzbekistani soum. The cost to buy the U.S. currency in unregulated trading in Egypt keeps rising even after the central bank devalued the pound three times last year.
The street rate "is a better reflection of where a market-based rate should be,» said Simon Quijano-Evans, the chief emerging-markets strategist at Commerzbank AG in London. It shows "how domestic participants and individuals really feel about their currencies," he said.
The existence of a black market isn't the only indicator that a country may be on the verge of changing currency policy. There wasn't a parallel rate in Kazakhstan when the country relinquished control of the tenge to boost competitiveness for its goods in neighboring China and Russia.
Below is a selection of countries where thriving unregulated trading may be forcing central banks to reassess currency policy as oil prices trade near 12-year lows, unrest in the Middle East chokes revenue from tourism and devaluations in key export markets hurt trade. To see the countries on a map, click here.
Nigeria
Currency: naira
Since Africa's biggest crude producer started managing the naira at 197-199 per dollar in March 2015, oil prices tumbled more than 40 percent. Under these pressures, central bank reserves fell to $28 billion this month, the lowest in at least five years, while an executive director at the nation's biggest company, Dangote Group, said last week the currency policy has created an "extremely tight" supply of foreign exchange. Non-deliverable forwards predict the naira will drop another 30 percent from the official rate to 288 in 12 months, approaching the black market level that exceeds 300 per dollar.
Angola
Currency: kwanza
The stress may be even greater further south in the continent's second-largest oil producer. Angola has been reducing the amount of foreign exchange it makes available to banks and businesses over the past two years to stem the drain on reserves that fell to the lowest levels since 2011 last year. The central bank let the kwanza depreciate 24 percent in 2015 and another 15 percent last month. But that may not be enough, with hawkers selling the currency at a premium of 136 percent to the official rate at 161 on Friday.
Egypt
Currency: pound
Egypt's ability to defend the currency with reserves has been crippled since the so-called Arab Spring uprising five years ago triggered political instability, drove out foreign investors and curbed tourism, one of the country's biggest sources of hard currency. The pound, which has fallen 26 percent since the end of 2010, is still under pressure as street vendors in Cairo charge 8.75 to buy dollars, compared with an official rate of 7.83. Since taking over as central bank governor in November, Tarek Amer has sought to shore up confidence in the pound in part by paying foreign stock and bond investors the money owed to them that had been trapped in the country and by limiting some imports.
Uzbekistan
Currency: soum
A slowdown in China and a plunge in the currencies of Russia and Kazakhstan, Uzbekistan's biggest export markets, are weighing on the central Asian economy. While low external debt and "large" international reserves provide a cushion, Uzbekistan is likely to allow the soum to weaken at least 15 percent this year to restore competitiveness, according to Per Hammarlund, chief emerging-market strategist at SEB SA in Stockholm. The black market rate of 5,950 in soum is more than double the official level at a record-low 2,837, according to data compiled by Bloomberg and the American Chamber of Commerce in the country. The central bank let the exchange rate slide 13 percent in 2015, compared with drops of 20 percent for the ruble and 46 percent for the tenge.
Tajikistan
Currency: somoni
This country of 8 million people borders Uzbekistan, Kyrgyzstan, China and Afghanistan in the heart of Central Asia. It relies on remittances from workers abroad, notably in Russia, for about half of its gross domestic product, according to SEB's Hammarlund, who predicted the somoni will depreciate by about 30 percent against the ruble in the coming months. The Tajik currency dropped 25 percent last year and trades at 7.84 per dollar, compared with an unofficial rate of 8.15, according to data compiled by Bloomberg and figures from the American Chamber of Commerce in the capital Dushanbe.
Bloomberg: Five Countries Being Squeezed by Currency Pegs
Иқтисод ва молия соҳасида дунёнинг етакчи ахборот агентликларидан бири ҳисобланувчи Bloomberg «Five Countries Being Squeezed by Currency Pegs» (Миллий валюта қадрсизланишидан «азият чекаётган» беш давлат», деб таржима қилиш мумкин) номли мақола чоп этди. Унда миллий валюталарни АҚШ долларига айирбошлаш учун белгиланган расмий ва қора бозор курси орасидаги фарқ Тожикистонда 4%, Мисрда 12%, Нигерияда 70%, Ўзбекистонда 110% ва Анголада 136 фоизни ташкил этиши таъкидланган.
Мақоланинг тўлиқ матни:
МАҚОЛАНИ ДЎСТЛАР БИЛАН БАҲАМЛАШИНГ